What follows it's a chronological description, obviously very short, of the essential phases behind the representation hard preparation works.
Dedicated to all the "aficionados" and to who needs to know something more...
--------------------
Basically the first organizing phases of the manifestation starts in the early summer and it includes some visit on Baia's Medieval Borgo (by also taking some video-photographic shotsof the area) to determine the ride length, the number and type of the scenes to create, which kind of lightnings are to be used, which characters must be employed and the amount of technical materials to employ.

After this, it follows a brief time of "desk" working that complains the making and sending of all the documents necessary to obtain the licenses, the authorisations and the technical supports needed; more, it includes the first contacts with press and radio-TV's.
Next step is to determinate the characteristic and the exact number of the scene costumes that are to be used (often we sketch the "models" that later would be handly made from the capable local tailoress, leaded from the veteran Mrs.

GIUSEPPINA MONE); all the other costumes that are too difficult to make, are later to be rent from qualified theatrical tailorings.
Then it comes the "unpleasant" part of the planning: the search for the money funds needed to face all the expenses to sustain. As much as it's possible, we try to recur to sponsorisations and patronages; anyway, very often, we reach the right money amount needed to pay all the debits, only thanks to the spontaneous contributions comin' from Baia e Latina's citizens...
Last, it starts the entries of all who do wanna be a part as a character in the representation.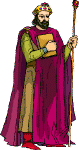 Sometimes, we're forced to make some choices, for example talkin' about the artisans, while for other characters the roles distribution is made up following logical standards fixed way by way evaluating the subjective attitude of the participants.
Please note that the main characters of the representation (S.Giuseppe and the Madonna) are personally selected from the Presepe Vivente team members between the town's youths, after a hard evaluation of some somathic peculiarities to find in a group of probably candidates kept absolutely secret. The names of those who would definitively wear the costumes of S. Giuseppe and the Madonna, are then surprisly communicated to the interested couple and their familiars, no more than two weeks before the representation. It's useless to add that, as this roles are very desired, the notice is get from the interested families always with joy (..and a little of apprehension..) and it leaves anyway everybody enticed and excited...

Copyright © 2000/2008 Com.Per. Presepe Vivente Baia e Latina - All rights reserved.
Concept, Artwork & Programming by ENZO MAIELLO.
[Home] [Su] [Are U curious?..] [The whole cast] [Organisation responsibles]